Mausoleum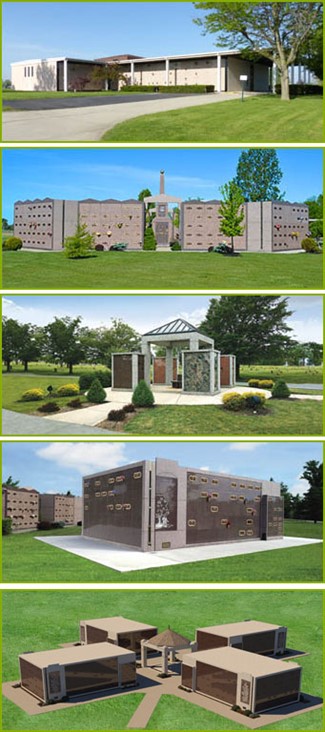 Comparable in price to ground burial, above-ground entombment has provided families comfort in knowing their loved ones are protected in a clean, dry, easy-to-locate, built-for-the-ages mausoleum structure.
In the spring of 1974 ground was broken on the first phase of our chapel mausoleum. This building offers a comfortable atmosphere with heating, air conditioning, lighting, music and ample room where families may gather for a service. With over 1800 crypt spaces, 400 urn spaces, and six levels high, this chapel building remains one the largest and most beautiful structures of its kind in the state of Ohio.
With the demand for mausoleum entombment ever-increasing, in the summer of 1999 ground was broken on our outside "Garden" building consisting of 670 crypt spaces and 150 urn spaces. This building offers a most affordable selection of inside courtyard and outside perimeter locations, five levels high, with a stately cremation niche tower being the feature.
As cremation continues to increase, we saw the need to offer a unique above-ground mausoleum for cremation urns that would be a feature at the front entrance of the Cemetery. In 2007 the "Niche Memorial Shelter" was completed consisting of 360 total urn spaces in four large and separate columbariums, each one with their own unique granite color. This impressive structure is accented by a domed skylight under which services may be held.
We are pleased to announce the addition of our third community mausoleum called the "Shelter Complex". On Oct. 16, 2017 construction began on this beautiful, polished mahogany granite building, included with bronze name plaques. Staying with tradition, we again have included all charges into one-low price e.g., bronze name plaque, memorial service at the Cemetery, entombment fees, and final date completion in the future. When finished, this mausoleum will accommodate 800 caskets, 384 urns, with an attractive gazebo as the feature centerpiece. Over 3000 families have chosen our mausoleums...why not yours? Call us at 419-223-3811, or stop by our office to reserve a lower level and receive our preconstruction discounts now being offered. Please take a moment and watch this 3D virtual tour of the building shown below.